In a nutshell, my podcast is about sharing my real-life journey of building my business. I focus on my challenges and how I found my way through them. I wish something like this was around when I started.

I don't want anything in return, just listen to episodes that resonate the most with you. You can find me in most places just search "ZulfTalks"

– Zulf –
A few places my podcast is available: (clickable)
Have you ever thought about Working for yourself?
"Be your own boss"

as they say!
Hi, I'm Zulf and I worked a 9-5 job for over a decade before working for myself. If you are also thinking about doing something like this then you are in the right place. I am documenting my journey of working for myself. I have my humble podcast and YT channel where I talk about everything involved in pursuing this goal.
Yes, I call it a goal,
If we start with a goal then we have something to aim for. It would be great if you find anything I share useful in your journey.
There will be times you feel you're not getting the best out of yourself in your current role. Deep down you know you are better than this and could be doing so much more.
What did I do?
I moved from being employed at an office to being self-employed alongside the day job before fully committing to setting up a company. Working for yourself, business life or being self-employed in the UK is a large area and there seem to be lots of resources out there. I didn't really feel they covered the core things I needed to consider before setting out on my journey.
Where am I now?
I am now the Director of my own company, which means I have complete control over everything. This isn't as easy as it sounds. I decided to share my story because I talk about all the things involved in going about this change.
The logistics never really get talked about and are assumed even by the professionals who coach and support business owners.
I am no financial advisor but want to share my experience to help motivate you or give you an idea to grow the things you find interesting. I talk about what I wish were available to me if I was to start this journey again.
I am lucky to have financial freedom and enjoy what I actually do.

Zulf Talks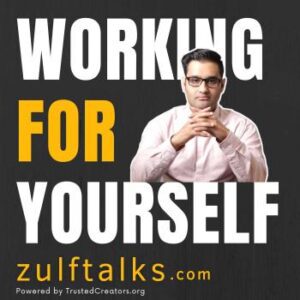 My podcast flows with my life journey Season 1-9 was about my "Zulf Talks Photography" when I started self-employment alongside my office job then progressed to Season 11 "Zulf Talks" where I pivoted to interviewing other like-minded professional creatives. I am now on Season 12 "Working For Yourself" where I will be concentrating on the actual journey I took to get where I am now.
Who is it for?
For actual figures and stats of who listens to my "Working for Yourself" Podcast Zulftalks, you can see below my podcast demographics for 2021-2021.
Here is my explanation of who it is for
Think of this podcast as if you are sitting and chatting with that friend that wants you to succeed in life. A who lot of business tips and focus on working for yourself. There will be banter about success and financial freedom the odd motivational speech to also give you a boost. I share thoughts on various subjects relevent to us professonals and use document my career journey occasionally joined by guests.

Zulf Talks
Why are you doing this?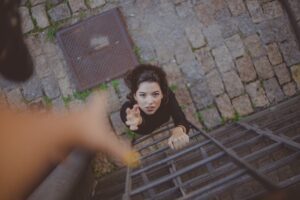 I've always been passionate about helping others that's why I'm so invested in making these episodes where I reveal all the challenges I faced and how I dealt with mine. I just wish this was available to me when I started. now you have it as a resource to reflect on.
If you would like to Speak to me you can send me a voice message here:
Press the button to start recording (Please state your name and social handle) -Zulf-
0
Legal Bits
The information talked about in episodes is not financial advice or recommendations. The information does not constitute financial advice or recommendation and should not be considered as such. I am not regulated by the Financial Conduct Authority (FCA), therefore not authorised to offer financial advice. Do your own research and seek independent advice when required.
Views and opinions expressed by the guests and or speakers are those of their own and do not necessarily reflect the views of Zulftalks.com or TrustedCreators.org. Having guests on this podcast does not endorse them, their services or their products.
Working for Yourself Podcast – www.ZulfTalks.com
My podcast/Vodcast is powered by – TrustedCreators.org
Business Life, Being self-employed, Working for Yourself