Apply below to be my Guest
You can see more details about my show and audience demographics here. There is also more information about my show below the Form.
When submitting your request above it does not guarantee a feature on the podcast. I have had a lot of requests and if I can't get you on soon I will add you to my list and may contact you about future opportunities to feature on another season of my show.
Being A Guest on my show means you get exposure to over 20 social media platforms just by speaking to me. How Awesome is that!

Zulf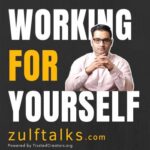 I record my show LIVE during our session. It can be on some or all of the below platforms simultaneously.(Click each to see examples of previous shows).
"Working for Yourself" Zulf Talks show could be streamed Live to
AND our session could also be split into shorts and edited for
AND EVEN MORE, The show could also be recorded in podcast form and is available on over 10 Podcast platforms here are a few examples
If you want to be a guest on my show, I explain how my show flows in this video. It should answer all your questions
If you are still reading then you know how awesome our session could be.
Still not sure? Here are more details about me and my show audience demographics see here
You can fill the form out at the top of this page to be considered.
ZulfTalks.com