Call to action (CTAs) are important because they guide the viewer towards a specific action that the video creator wants them to take. CTAs can range from subscribing to a channel, liking a video, sharing it on social media, or purchasing a product or service. CTAs are essential because they provide a clear direction to the viewer, increasing the likelihood of engagement and conversion.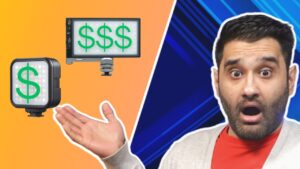 Without a CTA, the viewer may not know what action to take after watching the video, which can result in missed opportunities for the creator. Moreover, an effective CTA can help the creator achieve their goal, whether it's generating leads, increasing sales, or building brand awareness.
CTAs can be placed at various points in a video, including the beginning, middle, or end, depending on the creator's objective. When creating a CTA, it's crucial to make it clear and concise, align it with the video's message, and resonate with the target audience.
Determine the goal of your video: Before creating your CTA, you need to identify the primary goal of your video. Do you want viewers to subscribe to your channel, like the video, share it on social media, or purchase a product or service? Knowing your goal will help you create a relevant and effective CTA.
Choose a strategic placement: The placement of your CTA is crucial. You can place your CTA at the beginning, middle, or end of your video, depending on your goal and the type of video you're creating. For example, if you're creating a tutorial video, it may make sense to include the CTA at the end of the video, while a promotional video may have a CTA at the beginning or middle.
Create a clear and concise message: Your CTA should be clear, concise, and easy to understand. Avoid using vague or confusing language that may cause the viewer to lose interest. Use actionable words like "subscribe," "buy," or "register" to make it clear what you want the viewer to do.
Make it visually appealing: Your CTA should stand out visually. You can use bold colors, contrasting backgrounds, or buttons to draw attention to your CTA. Make sure it's large enough to read and easy to click.
Test and iterate: Once you've created your CTA, it's essential to test and iterate to see what works best. Experiment with different placement, messaging, and design to see which CTA generates the most engagement and conversion.
By following these steps, you can set up a clear call to action for your show that resonates with your audience and achieves your goals. Remember to keep your CTA concise, visually appealing, and actionable to drive engagement and conversion.